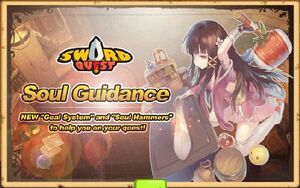 Goals were added with the July 3rd, 2013 Update.  These are to help give the players, new and old, a bit of direction as well as help push the player.  Especially the newer players.  Goals will help the players:
Earn great rewards by achieving "Goals"!
The addition of "Goals" will make Sword Quest more approachable and easier to learn by giving players more of an objective, without compromising any of the players freedom to approach the game differently!
Use Soul Shards and Soul Gems to recharge the brand new Soul Hammer! Using the Soul Hammer will add quality to your sword and accelerate crafting time!
Soul Hammers can be upgraded to add even more quality to your swords!
The 1 minute preperation time can now be skipped by hammering it yourself.
While the game will only show 3 goals, you can finish any goal at any time, even if it is not shown, however there are some goals that will not count towards the completion if you have not finished the pre-req quest first.
For example, defeating Orc General in Orc Camp will not count unless you first defeated Golden Slime in Mysterious Mountain.
鑄劍目標

| 鑄劍目標 | 完成獎勵 |
| --- | --- |
| 1.購買銅礦 | 500 遊戲幣 |
| 2.放一顆銅礦在一樓桌上 | 250 鑄劍經驗 |
| 3.敲擊自己的劍 | 500 遊戲幣 |
| 4.Speed up crafting with Soul Hammer | 8個靈魂碎片 |
| 5.Charge a Soul Hammer | 350 鑄劍經驗 |
| 7.Finish a sword | 1個Ancient Sword & 300 遊戲幣 |
| 10.Go adventure! | 1點鐵匠幣 |
| 13.Hammer a friends sword | 3個Friend Hammer & 250 鑄劍經驗 |
| 16.Buy a hammer | 800 鑄劍經驗 |
| 17.Check your Collection | 300 鑄劍經驗 & 1個劍之粉末 |
| 18.Check your Goals | 300 鑄劍經驗 & 1個劍之粉末 |
| 19.Check Achievement progress | 300 鑄劍經驗 & 1個劍之粉末 |
| 21.Return to Adventure (Pre-req; Go Adventure) | Steel Armor |
| Finish an Epic Sword | 3個Predator & 2個劍之粉末 |
| 44.升級Soul Hammer | 10個靈魂石 |
| Craft a Master sword | 1個Shield Hammer & 500 鑄劍經驗 |
| Finish a Master sword | 2點鐵匠幣 |
| Crafting in the basement | 300 鑄劍經驗 |
| 8.Save a sword | 1個Ancient Sword & 250 鑄劍經驗 |
| Weaponize a sword | 1,000 鑄劍經驗 |
| Hammer Candy's sword | 500 遊戲幣 & 200 鑄劍經驗 |
| Read Manga | 3個秘銀 & 300 鑄劍經驗 |
| Buy extra table space | 1 個精金 & 600 鑄劍經驗 |
| 15.Sell a sword | 300 鑄劍經驗 |
| 20.Buy a decor | 2個玉鋼 |
| 22.Use Friend Hammer to help a friend | 2個秘銀 & 300 鑄劍經驗 |
| Receive weekly XP reward | 2個玉鋼 & 2個劍之粉末 |
| Ask friends to help | 1,000 遊戲幣 & 200 鑄劍經驗 |
| Craft an "Orc Steel" sword | 10個Orc Steel & 15點Orc Steel熟練度 |
| Trade sword with a friend | 1,500 遊戲幣 & 2個劍之粉末 |
| 28.Complete a Kingdom Quest | 1,500 鑄劍經驗 & 2個劍之粉末 |
| Use Magic Hammer to get a normal sword | 3個Gold & 300 鑄劍經驗 |
| Buy Ancient Ruins Trophy | 3個Diamond |
| Complete a Candy quest | 2,000 鑄劍經驗 & 3個劍之粉末 |
| Create a Sword Essence | 2個Gladius |
| Upgrade a sword with Sword Essence | 2個Shield Hammer |
| Craft a Legendary Sword | 2個Time Hammer |
| Use Fire Hammer to raise temperature(Inferno Hammer ok) | 1個Fire Stone |
| Use Ice Hammer to lower temperature(Absolute Hammer ok) | 1個Ice Stone |
| Speed up crafting with Time Hammer | 2個Dragon Stone & 2個劍之粉末 |
| Use Shield Hammer on fusion | 2個Gold & 2個劍之粉末 |
| Finish a Legendary Sword | 1點鐵匠幣 & 1,000 鑄劍經驗 |
| Save a Legendary sword | 3個Predator |
| Buy from Black Market | 1個Thief Hammer |
| Stealing with Thief Hammer | 2個Happy Hammer |
| Create a Soul Metal | 3,000 遊戲幣 & 500 鑄劍經驗 |
| Craft an "Orc Steel" Legendary sword | 1點鐵匠幣 & 2,000 鑄劍經驗 |
| Craft a Divine Sword | 1點鐵匠幣 & 15點Divine Metal 熟練度 |
| Gain mastery with Apprentice Hammer | 1個Energy Hammer & 500 鑄劍經驗 |
| Use Fire Hammer on Fire Stone | 5個劍之粉末 & 600 鑄劍經驗 |
| Use Ice Hammer on Ice Stone | 5個劍之粉末 & 600 鑄劍經驗 |
| Use Heal Hammer to restore temperature penalty | 5,000 遊戲幣 & 500 鑄劍經驗 |
| Place a chest on table | 1個Key Hammer & 1,000 遊戲幣 |
| Open a chest | 3,000 遊戲幣 & 1,000 鑄劍經驗 |
| Create a Soul Forge | 5個劍之粉末 & 2,000 鑄劍經驗 |
| Use Miracle Hammer to hammer a second time | 1個Demon Hammer & 1個Energy Hammer |
| Craft an Artifact | 3點鐵匠幣 |
| Craft a God-slaying sword | 1個Miracle Hammer |
| Finish a God-slaying sword | 3 點鐵匠幣 |
| Save a God-slaying sword | 1個神之鐵 |
| Place a Candy Box for Halloween. | 1點鐵匠幣 |
冒險目標

| 冒險目標 | 完成獎勵 |
| --- | --- |
| Buy armor | Steel Armor |
| Equip armor | Steel Boots |
| Complete a route in Mysterious Mountain | 1,000 Coins |
| Defeat Golden Slime | 1 Your Gold Ring, 3 Soul Shards |
| Place pet into group | 1,000 Coins & 3 Soul Shards |
| Buy Combat Orb | 1 Fireball |
| Defeat Giant Lake Monster | 3 Tamahagane & 1 Smith Token |
| Invite friend to your group | 1 Bread & 3 Soul Shards |
| Set pet to rest | 1,000 Coins |
| Return to workshop | 6 Orc Steel & 3 Soul Shards |
| Repair sword | 3 Sword Dust |
| Increase pet growth bar | 2 Steel & 3 Soul Shards |
| Level up pet | 2 Mithril & 5 Soul Shards |
| Get a collectible | 2,000 Coins |
| Buy rare item | 300 Exp |
| Defeat Orc Chieftain(Defeat Giant Lake Monster first) | 3 Orc Steel & 1 Smith Token |
| Use Leadership point | 500 Exp & 3 Sword Dusts |
| Buy Healing Potion | 5 Smith Tokens & 500 Exp |
| Achieve elemental bonus | 10,000 Coins |
| Achieve Location Elemental Bonus | 15,000 Coins |
| Eat food to add stamina(Must own food) | 1,000 Coins |
| Defeat Orc General(Defeat Golden Slime first) | Orc Elite Armor & 3 Sword Dusts |
| Defeat Spider Queen(Defeat Orc Chieftain first) | 1 Queen's Mandible |
| Defeat Dwarf Miner(Defeat either Orc Chieftain or Orc General) | 3 Diamonds & 1,000 Coins. |
| Use Healing Potion(Must own Healing Potion) | 1,500 Coins & 300 Exp |
| Defeat Farmer Joe(Defeat Spider Queen first) | Farmer Clothing & 3 Apples |
| Defeat Cerberus(Defeat Farmer Joe first) | 3 Fire Stones & 500 Coins |
| Defeat Titan(Defeat Farmer Joe first) | 1 Shield Hammer and 2,000 Coins |
| Defeat Ancient Treant(Defeat 2/3 Orc General, Titan or Spider Queen or 6 bosses first) | 3 Silvers and 1 Smith Token |
| Defeat Unicorn(Defeat 2/3 Orc General, Titan or Spider Queen or 6 bosses first) | 3 Beast Crystals & 1,500 Exp |
| Defeat Necromancer(Defeat Ancient Treant or Unicorn first) | 2 Smith Tokens |
| Defeat Homunculus(Defeat Ancient Treant or Unicorn first) | 3 Mystic Orbs & 1,500 Exp |
| Defeat Ogre King (Defeat Necromancer) | 2 Smith Tokens & 1 Ogre Hammers |
| Defeat Evil Javid (Defeat Necromancer) | 3 Mystic Orbss and 1 Smith token |
| Defeat Flame Dragon(Defeat Ogre King & Evil Javid first) | 3 Fire Stones & 1 Smith Token |
| Defeat Burning Knight(Defeat Ogre King & Evil Javid first) | 1 Burning Helm & 2,000 Exp |
| Defeat Frost Dragon(Defeat Flame Dragon first) | 3 Ice Stones & 1 Smith Token |
| Defeat Frozen Knight(Defeat Flame Dragon first) | 1 Frozen Armor & 2,000 Exp |
| Defeat Wanderer(Defeat Frost Dragon first) | 1 Secret Scroll of Blades |
| Defeat Orc Legend(Defeat Frost Dragon first) | 2 Sword Essence |
| Defeat Ancient Robot(Defeat Frost Dragon first) | 2 Hyper Steel MA & 1 Energy Hammers |
| Defeat Eternal Life Form(Defeat Wanderer, Orc Legend, & Ancient Robot first) | 12 Soul Shards & 10 Soul Gems |
| Defeat Undead Dragon(Defeat Wanderer, Orc Legend, & Ancient Robot first) | 3 Undead Ash & 2,500 Exp |
| Defeat The King of Beasts(Defeat Eternal Life Form first) | 3 Beast Crystals & 2,000 Coins |
| Defeat Overmind(Defeat Eternal Life Form first) | 3 Mystic Orbs & 2,000 Coins |
| Defeat Ifrit(Defeat The King of Beasts & Overmind first) | 2 Fire Stones & 1 Smith Token |
| Defeat Beauty Under the Moon(Defeat The King of Beasts & Overmind first) | 2 Ice Stones & 1 Smith Token |
| Defeat Ascended Immortal(Defeat Ifrit & Beauty Under the Moon first) | 1 Panacea & 1 Life Force |
| Defeat Very Angry Big Bird(Defeat Undead Dragon or Ifrit & Beauty Under the Moon first) | 1 Chicken Steak & 3,000 Exp |
| Defeat Emperor(Defeat Ascended Immortal first) | 3 Diamonds & 1 Gold |
| Defeat Phoenix(Defeat Emperor first) | 3 Fire Stone & 3 Soul Gem |
| Defeat Doom Beast(Defeat Emperor first) | 3 Ice Stone  & 3 Soul Gem |
| Defeat Shura(Defeat Emperor first) | 1 Smith Token and 1 Sword Essence |
| Defeat Undead King(Defeat Shura first) | 3 Undead Ash & 1 Soul Metal |
| Defeat Kaiser Dragon(Defeat Undead King first) | 2 Smith Tokens & 1 Dragon Stone |
| Defeat Kraken(Defeat Undead King first) | 2 Smith Tokens & 1 Ocean Stone |
| Defeat Dragonian(Defeat Undead King first) | 2 Dragon Stone & 1Sword Essence |
| Defeat Fisher(Defeat Undead King first) | 2 Ocean Stone & 4,000 Exp |
| Defeat Blademaster Sho(Defeat Kaiser Dragon first) | 3 Sword Essence |
| Defeat Tiamat(Defeat Blademaster Sho first) | 2 Dragon Stone & 1 Smith Token |
| Defeat Leviathan(Defeat Blademaster Sho first) | 2 Ocean Stone & 1 Smith Token |
| Defeat Bahamut (Defeat Leviathan first) | 2 Time Hammer |
| Defeat Abyssal Nightmare(Defeat Leviathan first) | 3 Smith Tokens |
| Defeat Grandmother(Defeat Abyssal Nightmare first) | 2 Meteorite & 1 Alien Cell |
| Defeat Killer(Defeat Abyssal Nightmare first) | 3 Alien Cell & 5000 Exp |
| Defeat Ender(Defeat Grandmother first) | 1 Healing Potion |
| Defeat Manhunter(Defeat Ender first) | 3 Alien Cell & 1 Smith Token |
| Defeat Deman Lord(Defeat Ender first) | 1 Demon Stone & 1 Sword Essence |
| Defeat Demonic Ninja(Defeat Ender first) | 6000 Exp & 1 Thief Hammer |
| Defeat Divine Samurai(Deman Lord first) | 1 Sushi & 7000 Exp |
| Defeat Six Winged Angel(Deman Lord first) | 2 Sacred Stone |
| Defeat Majin(Deman Lord first) | 1 Elixir of Life |
| Defeat Deman of a Thousand Wounds (Defeat Majin first) | 4 Sword Essence |
| Defeat Divine Dragon (Defeat Majin first) | 1 Smith Token & 1 Recover Hammer |
| Defeat Guardian (Defeat Majin first) | 1 Smith Token & 1 Shield Hammer |
| Defeat Death (Defeat Guardian first) | 44 Soul Gem |
| Defeat Apo (Defeat Guardian first) | 1 Smith Token & 10000 Exp |
| 80.參加階級戰 | 1 劍之精華 |
| 81.參加鬥神挑戰賽 | 1 聖灰 |